The pandemic has made clear the need for modern technologies and remote access to applications and data. But armed with that knowledge, how will agency leaders respond, and how can IT shops be resilient in adapting to today's situation?
One way they can adapt is by updating their disaster recovery and continuity of operations plans (COOP). Traditionally, COOPs have focused on how back-office operations, such as human resources (HR) and finance, would function in two scenarios: a natural disaster or a threat to the physical infrastructure, such as the computer room going down.
"Most COOPs didn't fully anticipate what happens if everybody has to work from home, with little to no physical human interaction. A lot of plans were built around being able to activate an emergency operations center, where at least purchasing, accounting and payroll staff can come together to work. "The rules for this event were different." – Ray Elwell, Government Planning and Analytics Lead at Workday. 
That has led some agencies to reconsider their COOPs. GovLoop partnered with Workday, a provider of cloud-based enterprise resource planning (ERP) systems for finance and HR, to survey 91 federal, state and local government workers (the majority of whom were in state and local government) about their pandemic preparedness.
About 8% of survey respondents said their plan has changed drastically since the pandemic struck, and 45% said theirs had changed somewhat (See figure to the right). Some of the positive feedback from respondents includes agency-provided support for internet connection, added contingencies for remote work and transitioning all financial and audit functions to online processing.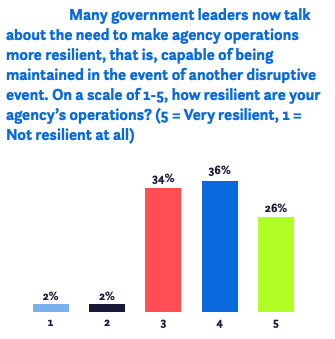 "For a time, they had us working in alternating pods – one pod in the office, while the other worked remotely," a respondent wrote. "In my opinion, this was very prudent for maintaining essential services. Now if one of us gets exposed, essential services will not be compromised.
Outsourcing disaster recovery and COOP operations to cloud providers is less costly than handling them yourself, not to mention that many agencies say they can't match the system access that cloud vendors can provide, said Ray Elwell, Workday's Government Planning and Analytics Lead.
Despite everything that has happened in these unprecedented times, most respondents said their agency's operations are fairly resilient (see figure on left). Government leaders must look at how COOP and disaster recovery plans account for long-term displacements – something legacy technology simply can't support. One way to quickly support remote workers today and in the future is to implement cloud services. It offers the flexibility and scalability that government agencies need to shift operations quickly.
This article is an excerpt from GovLoop's recent report, "Critical Operations in the Telework Era: How State & Local Government Adapted." Download the full report here to learn about how state and local agencies are staying resilient in times of change.