The Las Vegas Valley Water District, Southern Nevada Water Authority and Springs Preserve were in better shape than many government agencies when work shifted online. That's because the three organizations that deliver safe water to more than 1 million people had been using Workday's cloud-based Human Capital Management suite for three years.
As a result, a majority of employees, especially those who work in the field, were accustomed to entering their hours via a smartphone; they don't even have computers, said Lou Reinbold, HR Manager at the Las Vegas Valley Water District, Southern Nevada Water Authority and Springs Preserve. The same goes for supervisors who approve those submissions and those who handle payroll and benefits.
"We're able to have one centralized application that does a lot of these core HR functions and financial functions in one place, and so employees are used to using it," Reinbold said. "They know that if all their pay information is still available to them, they can get to it from their phone, they can make all those changes."
What's more, the organizations had already begun moving away from paper processes by implementing digital signatures and automated routing, further enabling critical operations to continue uninterrupted when things changed.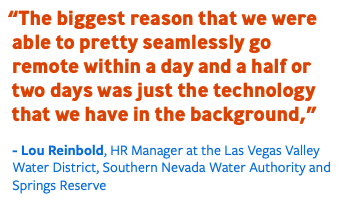 Still, the shift strained the infrastructure. "If we truly had to have every employee log in to our network, we wouldn't have had the capacity if we had to use VPN connections," he said.
Workday's solution allayed his security concerns, too. That's because it sits outside the on-premises network, and access requires two-factor authentication. "That lessens the need for offsite employees to connect to a computer on-site because it is cloud-based," Reinbold said.
Modern, cloud-based solutions enable agencies to extend operations to wherever their employees are. The result is that more people than he expected have been able to work remotely, seamlessly and securely.
"The biggest reason that we were able to pretty seamlessly go remote within a day and a half or two days was just the technology that we have in the background," he said.
This article is an excerpt from our report, "Tackling Telework: What the New Normal Looks Like for State and Local Governments," download the full report here to learn how state and local agencies can ensure critical management operations remain in place in times of crisis.