Public conversations around wooing tech talent into government usually focus on the obvious: There aren't enough trained professionals to meet the demand.
But that's only part of the story — and an argument that can easily be used as a crutch. How agencies engage with technologists already in the field and those who are entering it is a question that must be asked often and answered honestly.
This is a regular conversation within the Defense Department's (DoD) self-described digital SWAT team unit, known as Defense Digital Service (DDS). Over the past five years, DDS has recruited a consistent rotation of highly qualified technologists from the private sector. The team has also sharpened its focus on ensuring diversity of thought, gender, race, age and experiences are at the forefront of solving the Pentagon's most pressing tech challenges.
"We constantly get the question: How is DDS bringing in tech talent?" Christan Johnson (CJ), Digital Service Expert-Talent Acquisitions at DDS, said in an interview with GovLoop.
Well, the DDS team has compiled years of hiring and recruiting knowledge into a downloadable guide that it calls "Break the Code." That code is symbolic of breaking the status quo of traditional government recruiting and hiring, which often begins and ends with a USAJobs.gov posting. This creates missed opportunities to engage with potential employees in online communities and spaces where technologists gather.
The 25-page guide, which DDS publicly released July 10, isn't your typical government document. The modern design is eye-catching, and it's actually written in plain language. It's also a document that all employees can relate to because hiring and recruiting should be a collaborative effort, Johnson said during a sit-down interview about the document's release.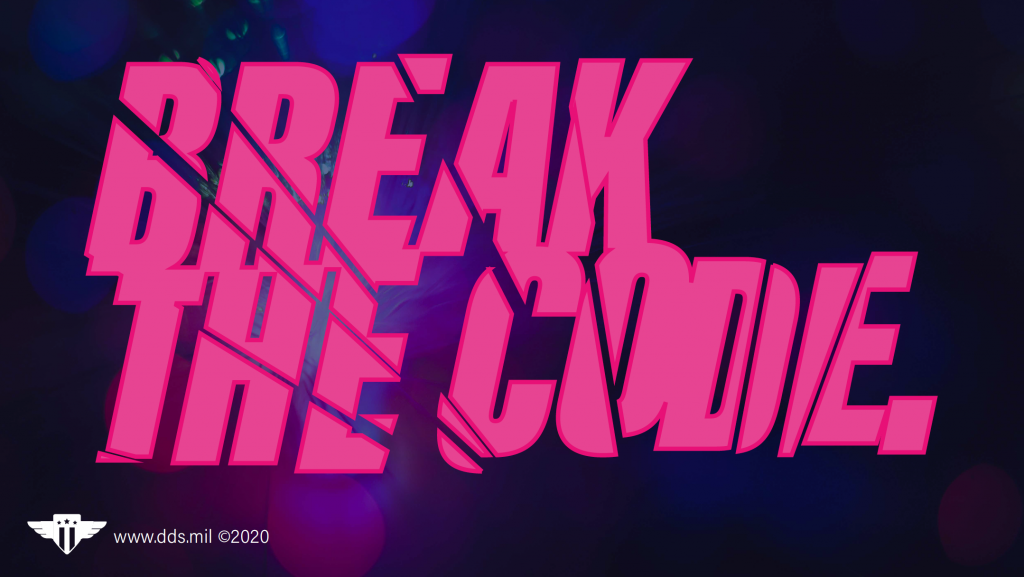 "Break the Code is an important initiative based on DDS's innovative hiring practices we hope the rest of the DoD and the U.S. government will adopt," said DDS Director Brett Goldstein. "Finding highly-skilled, mission-driven talent from the outside, coupled with the talent we cultivate within the DoD through training and partnerships, will position us for both critical near-term and long-term technological success. The DoD must focus on diversity in hiring, as we have done at DDS, but remember that the work of inclusion never stops once employees onboard."
So what's included in Break the Code?
In many ways, the guide gets to the core of what has made DDS successful in its hiring and recruitment efforts. This isn't about a secret code or special abilities that DDS has, per se, but rather implementing known best practices and trying new approaches.
"We have humanized the process," Johnson said. "We have made the process about the people. It is not about the process"
At DDS, humanizing the process includes engaging with hired candidates on a weekly basis, whether that's via phone or text, connecting with potential employees in online communities and at tech conferences, and even finding ways to speed the onboarding process. "For example: Drug testing staff agreed that candidates hired by DDS no longer need to have a drug test before onboarding, and each drug test is now administered 48 hours after the candidate onboards," according to the document. "With this single change, we removed 1-2 weeks from the candidate's start date."
DDS' commitment to humanizing recruiting is evident in the way Break the Code is written and designed. It's divided into key sections that focus on:
Actively recruiting tech talent. That means going where the talent is and not waiting for them to come to you. It also means showing potential employees how they fit into the mission and how their skills will contribute to the life-saving work happening at DDS.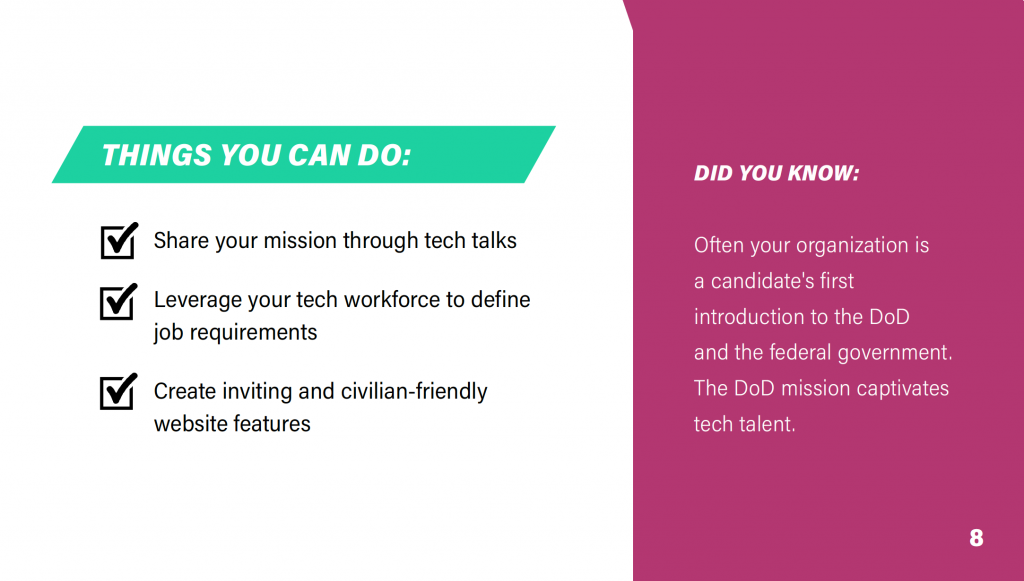 Understanding and using existing policies meant to enhance hiring and recruiting. For example, the Office of Personnel Management (OPM) has authorized agencies to use referral bonuses for hard-to-fill positions and retention incentives. But the reality is many agencies are not taking full advantage of these hiring authorities, according to a 2018 (OPM) report.
Particularly in this era of COVID-19, normalizing telework as a way of working — not just during emergencies — is a workstyle that many technologists have grown accustomed to in the private sector. Since March, the DDS team has onboarded 20 remote employees — and counting.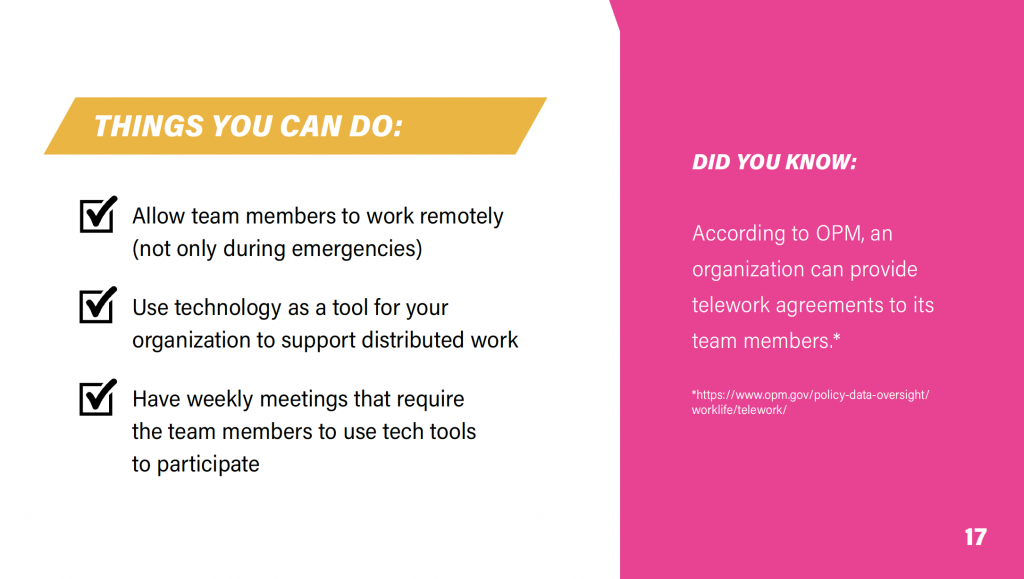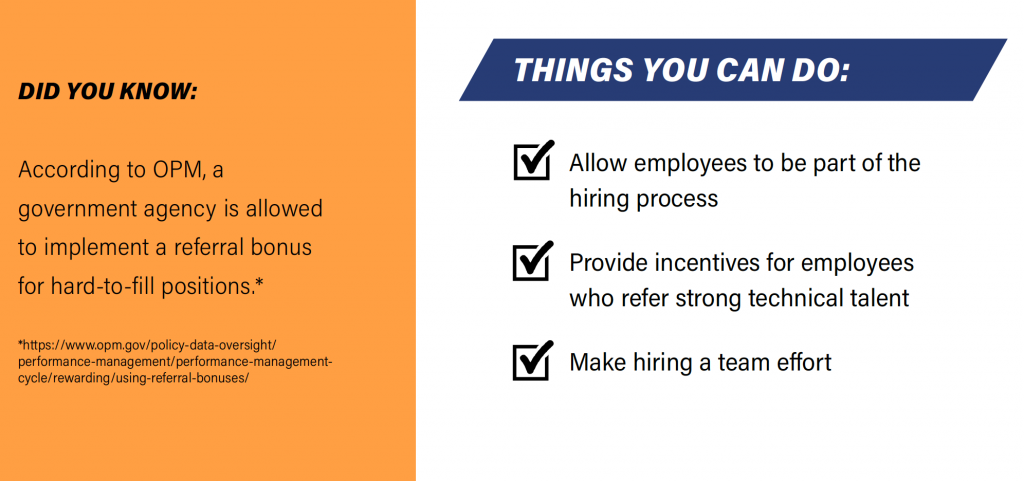 Valuing diversity as a strength that drives tech talent. The focus should be on the candidate's talent, and not whether their hair, fingernails, or other personal grooming features fit your agency's status quo. One of the recommendations is to review your agency's hiring practices to identify and eliminate unconscious biases. At DDS, that includes relying on phone interviews throughout much of the hiring process and refraining from discussing thoughts about a candidate that could sway someone's opinion — positively or negatively.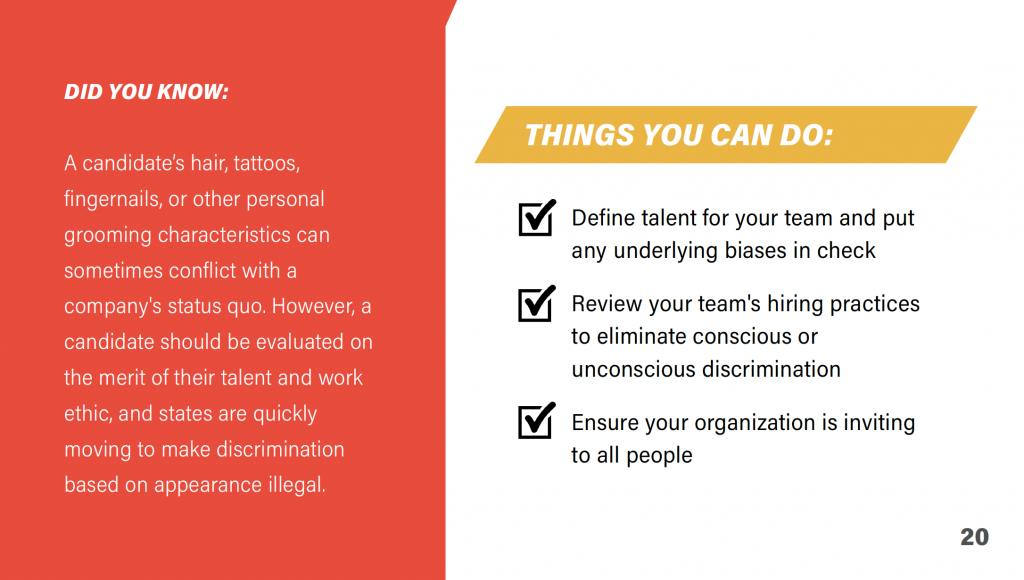 In many ways, DDS is a microcosm of what government is trying to do in pockets at the federal, state and local levels: tap into the collective wisdom that comes from having a diverse team and including their thoughts, perspectives and talents on meaningful projects.
In July 2019, the DDS team was 59% male, 41% female, 85% white and 15% minority. As of June 2020, those numbers were 53% male, 47% female, 72% white and 28% minority. Many organizations say that they support diversity and inclusion, but the numbers say otherwise, Johnson said. These are the types of questions that job candidates ask and want answers to.
Who is Break the Code for?
Short answer: everyone. DDS advocates for hiring and recruiting to be a collaborative process. Although this is a DoD product, the hope is that all agencies will use it to have honest conversations about their hiring and recruiting practices today and what needs to change. "These are concepts that everyone can relate to," Johnson said.
How do you use Break the Code?
Just dive in. The document is skimmable and for each section, there's clarity around what's available to agencies today and three actions they can take to put that authority into practice. Engage with those involved in hiring and recruiting at your agency and determine how this document can enhance what you're doing and open doors for trying new things.
Check out the entire Break the Code document here.