In the midst of crises such as Hurricane Laura, police brutality and a global health pandemic, agencies like the National Oceanic and Atmospheric Administration (NOAA) are especially attentive to building resilience.
At GovLoop's online training Thursday, NOAA Fisheries' Chief Information Officer (CIO) Roy Varghese shared five pillars around how the agency reimagined IT resilience. They include smart cloud adoption, data, artificial intelligence (AI) and machine learning (ML), partnerships, and recruiting, retaining and reskilling the workforce.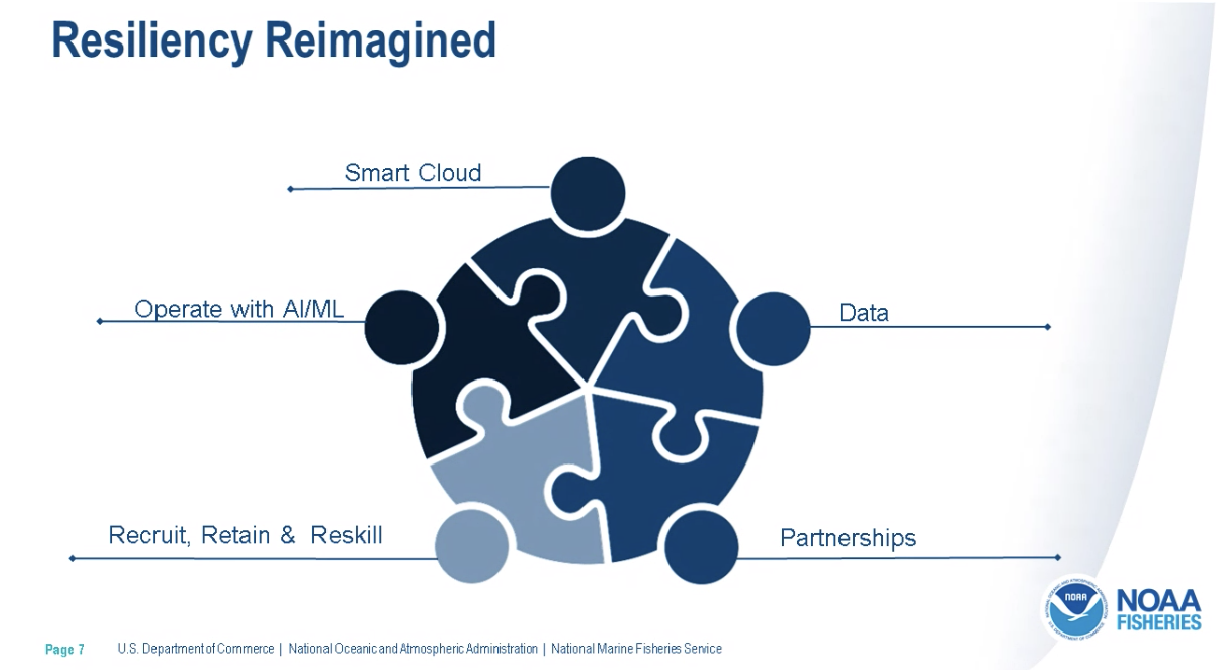 Of these pillars, Varghese said that talent — the people ­— are at the center of building resilience.
"IT resiliency, from my perspective, comes from our people," Varghese said.
In recent years, the agency has been rolling out low-code and no-code platforms for building applications. One of Varghese's executive assistants decided to take advantage of these offerings and get certified in one of them in the midst of mandatory teleworking conditions. Within a week, she was building applications that improved and automated business processes for the teleworking agency. Varghese was able to sign documents through a couple of clicks instead of undergoing a lengthy process.
"The beauty of those platforms is that it lowers the barrier to entry [for] folks like you and I who may not be high-end software developers to build applications that impact the mission today," Varghese said. "It was able to get from idea to production in a matter of days because we lowered the barrier."
Ultimately, technology works at the service of people, said Bob Osborn, Chief Technology Officer of Global Government at ServiceNow, which specializes in enterprise automation solutions.
A benefit of having an enterprise platform solution is that it can reserve the more consequential and less rote decisionmaking for human energy, and identify workflows that can be automated. Additionally, the AI and ML capabilities that automate workflows can assist in providing contextual information gathered from workflow data for even better decisionmaking at the time of need. People can make decisions faster and with fewer errors.
"What this allows us to do is take advantage of the capabilities in which humans excel — which is complex decisionmaking — and take advantage of technology where technology excels — in repetitive processes and routines," Osborn said.
A resilient organization depends on how its people can flex their strengths for problem-solving, especially during crises.
"These kinds of ideas … come out of the creativity, ingenuity and hard work of or people," Varghese said.
This online training was brought to you by: