Did you know that YouTube is the second most popular social media site (behind Facebook) with 1.9 billion monthly active users? YouTube is also known as the second largest search engine after Google. It's a video-sharing platform where users can watch billions of hours of videos a day, and it gives organizations the opportunity to educate audiences in a fun way about their brand or agency. You can even advertise on YouTube to increase your reach on the platform. So why wouldn't you want to hop on board?
If your agency is struggling to get started on YouTube or unsure of where to begin, we put together this list of 10 federal agencies we think are killing it on YouTube. We also threw in some tips for you to take account when building your channel.
This list is in no particular order.
What's particularly fascinating about the Census Bureau's YouTube channel has a lot to do with the fact the census is being taken this year. Its channel has been incredibly informative about the census process, including how the counting is done and the tech it uses to do it.

TIP: An excellent way to make your channel fun and informative is to share videos on processes the public doesn't normally see. This can be fascinating content to citizens who want a sneak peek into the hard work you do to keep the country running as smoothly as possible.
We love the Navy's YouTube channel because of its strong behind-the-scenes work. The channel features messages from servicemembers and depicts what it's like to be in the Navy. It even has a video series where you can "sail the seven seas." These videos take you behind the scenes of different naval groups and operations and really shows you what it's like to be in the Navy.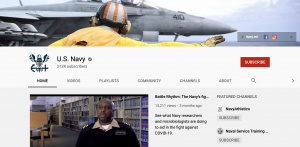 TIP: Audiences love behind the scenes! And we talked about this in our Twitter and Instagram posts, too. Showing behind-the-scenes content on YouTube doesn't just have to be process-sharing. It can also be interviewing employees and showing off your tech or headquarters.
The DOT nails it when it comes to video series. For example, it has a series called which features interviews of family members who have lost loved ones due to distracted drivers. These videos are a humanizing and authentic way to get its message of safety across. Their campaigns are creative and entertaining.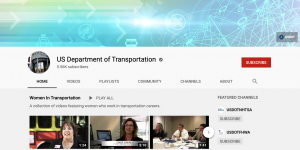 TIP: Why not try out a series? Video series are a great way to keep users engaged and are an incredible driver for creating consistent content. On YouTube, you can create something called "playlists" on your channel so that you can consolidate each series into one playlist and keep the videos organized and easy to find.
If we could use one word to describe this agency's channel it would be "fun." Our favorite feature on this channel is a series they used to do called "Matt & Mike." It was about two individuals navigating life after college. This is a super engaging, goofy and family-friendly way to share information for the public.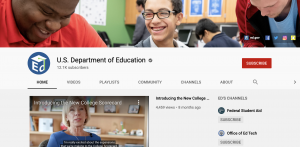 TIP: Get into character! Why not, right? Your agency's YouTube channel is yours and you have all the creative freedom. So, spice it up. Create funny characters to get important messages across so that users can stay engaged and maybe even have a laugh.
The CDC's YouTube channel tackles almost everything we've talked about already. Behind the scenes, process-sharing and deep dives on topics. The agency offers videos on topics ranging from immunization, smoking, HIV and other diseases that the agency works to control, prevent and cure. This is especially important during the COVID-19 pandemic. What we love about this channel is that it increases accessibility by offering videos in Spanish.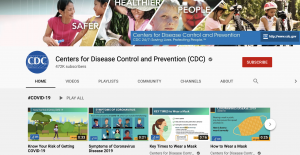 TIP: Accessibility is important! YouTube offers so many opportunities to make your videos as accessible as possible. You can offer videos with subtitles in Spanish and in different languages as well. It's not easy to make all content accessible, so when offered the opportunity on YouTube, you should take advantage.
 NASA's YouTube is among the top channels viewed on the whole platform. This probably has a lot to do with its in-depth looks at its missions. For example, during the Hubble repair mission, the NASA YouTube channel was number one. When Hurricane Irene was a breaking news story, many tuned into the videos the agency shared of the views of the storm from the space station.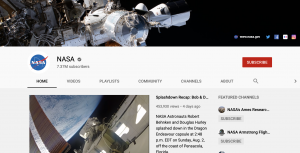 TIP: Timeliness matters. When there is a big event taking place, citizens often look to government for help. It's important to remember that on YouTube, it's not always about marketing your agency but giving people a better view of its programs and processes.
This agency's channel offers a new take on behind-the-scenes work. We talked about employee and servicemember highlights, but on NGA's YouTube channel, they feature It has interns appear on videos to share stories and discuss what it's like working there.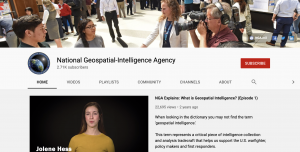 TIP: Leverage YouTube for new employment. Speaking to interns is especially interesting, since they have only been there a short time and are there to learn. Make your channel more human and authentic by providing real-life interviews with people who have stories to share and are passionate about the work they've done at your agency.
The FEMA YouTube channel shares a ton of videos on disaster preparedness. More specifically, videos are about how to prepare your entire family for a disaster, or what to do if you need assistance following one. But what we love about the FEMA YouTube channel is its videos intended to teach children about emergencies and how to respond.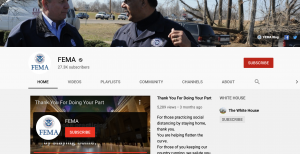 TIP: Make your videos work for all audiences. It's no secret that some things are hard to explain to your children. Creating fun, kid-friendly videos that parents can use to explain complicated government processes to their children will make your channel stand out and accessible to all ages.
The White House uses series to its advantage as well, but a behind-the-scenes series. They do a "West Wing Week" feature that shares a bit about what the president and his staff are doing each week. This is an awesome feature for any agency, especially the White House.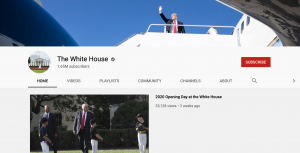 TIP: Take your series behind the scenes! Use video, creativity and what you have around you to your advantage. Do a fun behind-the-scenes series where each week you feature a different department or process so that audiences can get an inside look at the work your agency is doing.
USGS is fascinating not only because it shares livestreams of polar bears in the wild (which we love) or volcanic eruptions, but because it uses its channel in an interesting way — with disabled comments. USGS could have done this for a number of reasons. Maybe it doesn't want people commenting rude things, or maybe it doesn't have the bandwidth to monitor posts.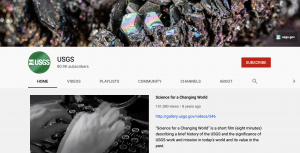 TIP: Use YouTube tech to your advantage. Like we discussed at the beginning of this post, since YouTube is so popular, it's important to have an active channel. But it can be a lot of work to monitor, and if you're a small agency you may not have the resources to dedicate time to YouTube. If that's the case, you can film a bunch of videos in one day and schedule them ahead of time. You can also disable the comments like USGS does for several videos, so you don't have to worry about monitoring the comments section. This is tricky because more engagement yields more views, but it's a good practice if you truly don't have the bandwidth to manage.
And that's a wrap! We hope you enjoyed this post and found some helpful tips for your own agency's YouTube channel along the way. Be sure to check out our blog posts on the top 10 federal government Twitter and Instagram accounts for some tips on those platforms as well. Comment down below or reach out to us on Twitter if you have any questions.
This post is part of our social summer series. Every two weeks we will highlight government social media accounts we love. Stay tuned for more!