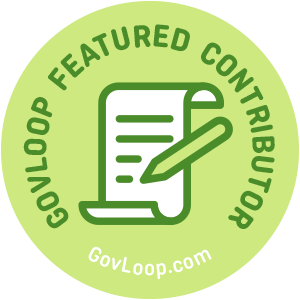 Employee development can be costly, time-consuming, and difficult to prove ROI. Training often appears on the chopping block during budget cuts. However, there are many creative and low-cost ways to build a learning culture even in an organization with a tight budget.
Four cost-effective ways to build a learning culture
1. Curate online resources
Scour the internet for videos and tools that employees can use for self-paced learning. Consider developing a list of links to resources based on a leadership competency or and in-demand skill set. Sources like LinkedIn Learning, Khan Academy, getAbstract, Harvard Business Review, TED, YouTube, and of course GovLoop Academy, have loads of great content to explore. Tie the resources to skill sets that are important to your organization.
2. Create spaces to learn together
Designate times away from the day-to-day to learn with other employees. Opportunities such as lunch-and-learn sessions, book clubs, or coffee talks are simple and effective ways to set aside time to learn. Employees get the chance to ask questions and share ideas with one another as they learn. These experiences nurture relationships and support continuous learning. Not only will employees get inspired and informed, they will also get to know one another.
3. Keep it informal
While formal classroom training certainly has its place, we can shift the culture by weaving learning into the everyday. Shout outs in meetings, icebreaker exercises, quick emails, or other simple methods can draw employees' attention to developmental opportunities. Include all levels of staff in your communications to show continuous learning is encouraged for all.
4. Involve employees in their learning
Invite participation by employees themselves in their learning opportunities. Rotate facilitation responsibility among participants for a recurring meeting. Employees can submit topics they are interested in and research content about the topic ahead of the meeting. The more employees are involved the more they will value everyday learning opportunities.
Real-World Example: TED Talks Lunch Club
I got to incorporate all four of these ideas in an employee development effort I have underway. About six months ago I started the TED Talks Lunch Club at my organization. I hold sessions on a Monday at noon and encourage attendees to bring their lunch with them to the session.
For each TED Talks Lunch Club session, an employee volunteers to be a Discussion Leader. The Discussion Leader selects a TED Talk for attendees to watch during the session and then sparks a group discussion about the talk. Any employee can participate as a Discussion Leader and sessions are open to all employees.
TED Talks Lunch Club has grown fast. What started out as a gathering every other month has now become twice-a-month sessions with more employees joining every day. Executives to entry-level employees have volunteered as Discussion Leaders. Dozens of employees show up to each session and actively participate. Employees leave the session inspired and informed by the TED Talk and the discussion.
Now the club has become an informal community of employees who would normally not have contact with one another. Employees learn with and from one another and build valuable relationships. And the only cost is the time it takes to reserve a meeting space and set up a screen!
Danielle Metzinger is a GovLoop Featured Contributor. She leads efforts across agencies and sectors to think big about improving government for generations to come. Danielle serves as an Organizational Excellence Specialist in the executive office of the California Department of Transportation. Throughout her public service career, she has worked on high profile projects related to organizational development and succession planning in California state government. She leads NxtGov, a nonprofit professional network for public servants, and Innovative Pathways to Public Service, a collaborative of educators and government officials to bring young people into public sector careers.  You can read her posts here.