It was October 2010, and I had a crazy morning at work.  I was out for a jog on the Trinity Trail during my lunch break when I saw two abandoned, skittish Basset Hounds that would forever change my life.  My original plan was to foster these two sweethearts, who we named Hank and Lucy.
Lucy and Hank (off the streets and onto my couch!)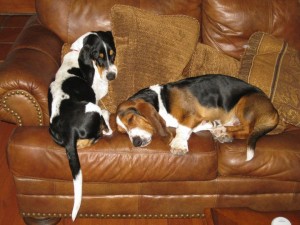 I was on the phone with a local Basset rescue organization when my husband turned to me and said we could keep them.  We had an amazing year with our three furkids, including GusGus, our English Bulldog (he was an only child before Hank and Lucy came along).  Then Hank got sick and passed away after surgery, and it turned out he had lymphoma.  I was devastated.  Fortunately as time passed, Lucy became bonded with GusGus (they are quite a funny duo).  But I still had an aching feeling that with Hank gone, part of our family was missing.
GusGus and Lucy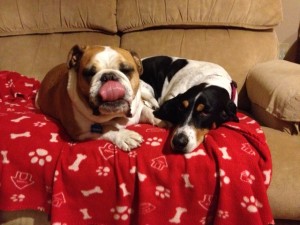 In early 2013 we made the decision to become fosters.  That is an essential step in order to get the dogs out of the shelter quickly, give them the medical attention and the love and care that they need, and find them the perfect forever home.  Also, this allows us to help more dogs in the same way we helped Hank.  Once I am into something, I am ALL IN.  We have fostered 7 Basset Hounds these past two years, and over time I became more involved with the rescue organization (ironically the same organization I called when I was trying to find Hank and Lucy a forever home).  Now I am the Events Coordinator, which means I plan the monthly adoption and meet-up events.  I also write the majority of our Facebook page posts.  What's great about all of this experience is that it is completely different from my day job, where I am usually sitting at my computer and doing accounting/finance-type work.  These are some of the lessons I have learned:
1) Celebrate the successes. With a rescue organization, you spend a lot of time asking for stuff – money, donations, volunteers, etc.  The Facebook posts that get the most feedback are the "happy tails," where a foster dog has found  their forever home.  The same concept applies to your organization.  Sometimes were are so busy asking for things from our employees that we don't stop and acknowledge success and hard work.  That can make it difficult to remember your mission and stay motivated.
2) Utilize social media. I attended a conference in San Antonio and an online training to help strengthen my skills in this area.  There are all kinds of things to learn about social media – how frequently to post, what days/times to post, etc.  Improving our Facebook page has helped reach over 6,000 people per week.  Government agencies have so much untapped potential with social media.  It's fun to see more agencies take advantage of this platform though.  If you haven't already read this, check this out.
3) Step outside of your comfort zone. I have been a federal employee working in the accounting/finance field for over a decade.  If I had to guess, I would have figured I would be a Treasurer, not an Events Coordinator.  But it has been fun and rewarding to venture into the unknown and learn about marketing, expand my creativity, and make fun things like flyers (not that spreadsheets aren't fun!).
4) Polish inter-personal skills.  I am routinely in contact with other volunteers, fellow foster families, potential adoptors, and businesses.  I even keep in touch with the families who adopted my foster dogs (my former foster dogs actually get a Christmas card, because I am a total nut).  It's important that everyone involved has a positive experience and continues to support our rescue group.
5) Dress for success! This is me in "Bosley the Mascot" attire with my last foster dog who was recently adopted.  It is quite the hit, even though I feel like I'm melting when I wear it.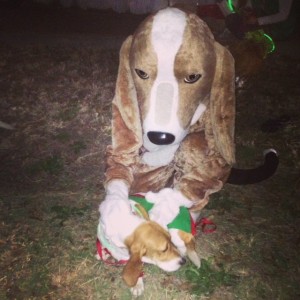 While I was drafting this blog post, I stumbled upon Tim Howell's post, "5 Reasons Everyone Should Have a Hobby."  What do you do away from the office that contributes to your personal development?