How and when federal employees and contractors return to the office is a loaded question with nuanced answers.
The simple but insufficient response? It depends. Here's why: Although the Trump administration released overarching guidance on April 20 for the federal workforce to "resume normal activities" in a phased approach, there are a host of factors, including how COVID-19 cases are trending, and multiple levels of coordination that must happen before agencies greenlight a return to the office.
The bottom line is each individual agency head is in charge of deciding how and when their workforces return to work, contingent on different variables that will vary by department. At a high level, factors that agencies must consider before calling employees back into the office include:
Regional guidance from states on reopening protocols and other safety and shelter-in-place instructions
Guidance from the Centers for Disease Control and Prevention (CDC)
Coordination with the Office of Management and Budget (OMB) and the Office of Personnel Management (OPM)
And agency-specific considerations, such as:
The need to ramp up capacity for providing public-facing services
The capacity for adequate cleaning of facilities
Availability of personal protective equipment for frontline employees and contractors
The status of dependent care and childcare services
Status of mass transit operations
Whether the agency's building is leased or owned and which necessary parties must be consulted, such as building managers and the building's facility security committee
This isn't an exhaustive list but, instead, it's a sample of all the things that are supposed to align before agency heads make decisions about calling people back into the office.
Per the memo, before agencies begin aligning with cues from regional governments on reopening, they must first have policies and processes in place for ensuring things like social distancing, temperature checks, and the ability to perform contact tracing. This involves tracing and monitoring contacts of infected people, notifying them of their exposure, and supporting the quarantine of contacts.
The memo doesn't mention considerations for protecting against asymptomatic people in the office who may be carrying the virus but not showing symptoms, such as a fever. The memo does say that "agencies must ensure their policies and procedures restrict individuals infected with or at higher risk for serious illness from COVID-19 from accessing Federal facilities."
Don't expect this to be uniform at every agency. Another key factor is whether your office building is owned or leased, and by whom. For example, if a federal building is a part of the General Services Administration's property portfolio, there is a multi-member committee for each facility that decides entry screening procedures. Members on the committee include representatives from all federal tenants in the facility, the security organization, and the owning or leasing department or agency.
"Facility screenings could include implementing a set of questions to be asked upon entry, temperature checks, visual inspection, or other methods," according to the administration's guidance.
So what does all this mean for telework and how soon feds may be called back to the office? 
Until agencies meet the guidelines outlined in the chart below, the memo instructs them to "continue in Maximum Telework Flexibility operating status, at the discretion of the agency head." There are different phases to telework that the guidance outlines (See pages 4 and 5 of the memo).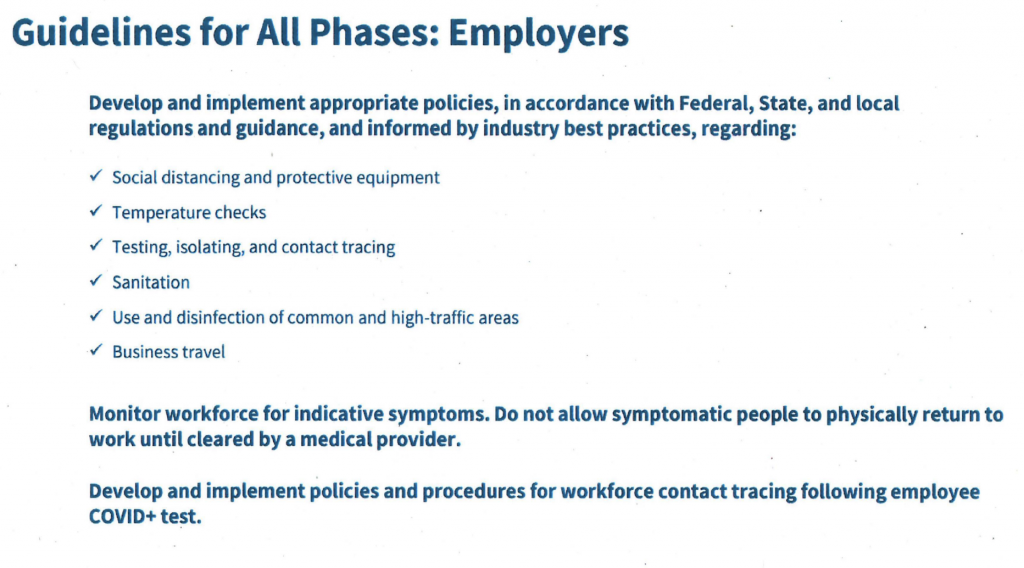 Once agencies meet the guidelines, they should begin reducing telework in a phased approach that aligns with the national guidelines for Opening Up America Again, according to the memo.
So what are the national guidelines? They include a three-phased approach that states and local governments should follow for opening their economy:
1) Influenza-like illnesses and COVID-like cases of illness must trend downward for 14 days
2) Documented COVID-19 cases and prevalence of positive tests must trend downward for 14 days (while not decreasing the overall number of tests)
3) Local hospitals must have the capacity to treat all patients without crisis care, and jurisdictions must have a robust healthcare worker testing program and plan in place.
Part of the confusion for people is that some states are giving businesses the OK to open even though the phased criteria have not been met. If federal governments are to take cues from regional guidance on reopening, what happens when regional and national guidance conflict?
Back to the question of telework. What will phased telework actually look like? The memo instructs agencies to remain in maximum telework flexibility status until they meet the requirements outlined earlier around office sanitation procedures, the ability to perform temperature checks, and more. From there, agencies should take a phased approach that encourages telework whenever possible, then moves to resume normal telework operations and finally to "implement optimized operations and new work arrangements." The memo does not include timelines for this phased approach but, instead, defers to the agencies to decide.
So, what does new work arrangements entail? According to the memo, this is another case where agencies have discretion. This may involve creating cohorts or teams within an office and placing the cohort or team on alternating schedules of five days in the office and 15 days of telework per month.
"Adoption of alternative arrangements such as rotating cohorts may enable additional flexibility for employees to resume normal operations, regardless of phasing status, while maintaining social distancing and reducing contact among work units," the memo said.
If you work in a facility designed for handling classified information, the administration is calling for those agencies to prioritize bringing employees back to work.
The reality is that this is not just a Washington, D.C., issue. In fact, about 85% of the federal government's roughly 2 million employees live outside of the D.C., area. But the Washington, D.C. area has an especially high density of federal employees and contractors.
In a joint letter to OPM's acting director, the governors of Maryland and Virginia and D.C.'s mayor urged the continuation of telework for federal employees in the region. "We encourage the Administration to help ensure the safety of the federal workforce and our residents as we work to fight this pandemic," the letter stated. "Failure to do so could lead to a rise in cases and delay our ability to re-open the region."
.@MayorBowser, @GovernorVA & I have sent a joint regional letter to the Trump administration urging the continuation of telework for federal employees. Extending this policy will help ensure the safety of our region's 360,000 federal workers as we continue fighting this pandemic. pic.twitter.com/4HTMfxIJ81

— Governor Larry Hogan (@GovLarryHogan) April 23, 2020
I know we've covered a lot of ground in this article, and a lot of next steps depend on many variables. This guidance is still trickling down to the employee level, so you may or may not have received directions from your manager about how and when you will be expected to return to the office.
The memo did call on agency heads to "delegate certain operational or personnel decisions to component- or bureau-level leaders," but it's yet to be seen what that empowerment will look like as employees await word on the specifics of their return to the office.