Each year, governments in the United States spend about $2 trillion to purchase goods and services—from tanks to textbooks to health care to software—for public use. While the scale and importance of procurement and acquisition will come as no surprise to seasoned government leaders, there is still relatively scant attention paid to the public employees charged with conducting the public's business.
To begin to address this, the Volcker Alliance—launched by Paul A. Volcker in 2013 to address the challenge of effective execution of public policies and to rebuild public trust in government—completed a focused study called "Doing the People's Business: Key Competencies for Effective Public Procurement." We engaged Public Spend Forum to help us break down public procurement into twelve key competencies with an emphasis on making them accessible to purchasing offices of all sizes at all levels of government. We then reached out to over forty leaders in the public procurement community, including federal, state, and local officials, academics, suppliers, and training providers, to get their impression of the workforce's proficiency.
What did we learn? Our respondents are very concerned about the state of the workforce. The chart below shows the twelve competencies and the breakdown of the workforce's proficiency ratings on a four-point scale: only four of the twelve competencies were rated as proficient.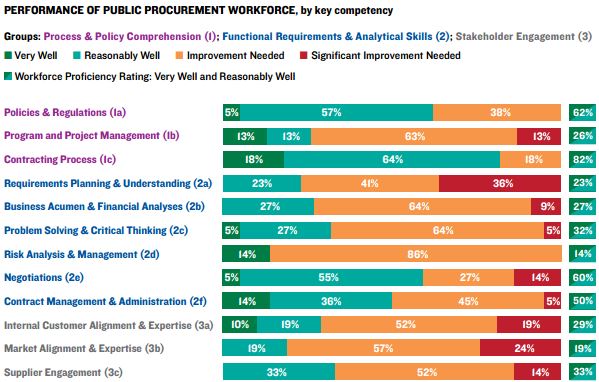 The qualitative portion of our interviews revealed five suggestions for how government leaders can ensure that procurement offices are able to best contribute to mission.
Clarify procurement's role. Many public sector leaders do not understand procurement's important part in achieving their organizations' mission and outcomes. This locks many procurement offices into a primarily clerical role and limits the workforce's capacity to deliver value. Agency leaders must ensure that procurement has a seat at the table when important decisions are made.
Align early with internal customers and develop expertise in supplier markets. Successful procurements occur when program leaders and procurement officers sit down early, identify the desired outcome, and then work backwards to find the product or service to achieve it. Procurement can bring particular value by organizing teams and building depth around complex supplier markets that government frequently needs, such as professional services, IT, or health care.
Be aware of policy and regulatory burden. While policies and regulations are intended to ensure the best value for government and to prevent mismanagement or fraud, interviewees warned that their scale, complexity, and occasional contradictions have the unintended consequence of increasing costs, delaying completion, and harming outcomes. Some interviewees argued for top-down changes in policies and regulations, while others suggested that procurement leaders must ensure that compliance is paired with the search for solutions.
Encourage smart risk-taking. Almost all interviewees agreed that the procurement workforce's contribution to solving complex problems is limited by a risk-averse, change-resistant orientation, which can lock employees into outdated processes or legacy suppliers. Procurement leaders must encourage creative problem solving, and invest in training and recruitment that enhances such an approach.
Embrace data and technology to build strategic value. The growth of the open-data movement, combined with demands from policymakers for evidence-based decision making, is driving a more thorough analysis of procurement information to identify areas for improvement. A procurement office with a strong capability to analyze procurement data from other agencies, states, or cities stands to add considerable value.
Read the full study for detailed insights into how agency leaders can strengthen specific procurement competencies, and to learn more about the Volcker Alliance's Public Service Excellence program.