Nominations are open for the Shorty Awards, which celebrates innovative and creative content on social media—including the best in government and politics.
Dubbed the "Oscars of social media," the Shorty Awards recognize winners in categories that change from year to year as social media trends come and go. For several years, some variation on the Best in Government and Politics award has been given to a city, state or country government, political party, politician or government advocacy group that has caught the attention of the social media community.
This year, there are also a few other categories that your government agency's social media might qualify for, like the best Ambassador and Celebrity Campaign, News, Data Visualization, Real-Time Response, or Cultural Institution, and the best use of various channels like Facebook, Instagram, Twitter, and Vine (and there have certainly been lots of creative Vine videos from government agencies).
Winners are decided by a mix of a popular vote and by the members the Real-Time Academy of Short Form Arts & Sciences.
Previous Government Shorty Award Winners
Let's look at the government agencies that have won one of the Shorty Awards for social media:
2009
Kicking off a winning streak that shows no sign of abating, NASA won a one of the first Shorty Awards in 2009 for its Phoenix Mars Lander Twitter account (@MarsPhoenix). The chatty Twitter stream was filled with highly anthropomorphized updates from the lander. The Twitter account went silent soon after NASA officially ended operations after it could no longer contact the spacecraft.
Are you ready to celebrate? Well, get ready: We have ICE!!!!! Yes, ICE, *WATER ICE* on Mars! w00t!!! Best day ever!!

— MarsPhoenix (@MarsPhoenix) June 20, 2008
2010
Though the Shorty Awards started in 2009, it wasn't until 2010 that the contest specifically recognized government social media with its own category. It was a rough year for government agencies as the charming Cory Booker, then mayor of Newark, New Jersey, beat out finalists the Navy, Virginia State Parks, the Marine Corps, Israel Los Angeles—and, wait for it—NASA.
2011
Proving that it doesn't mind about repeating itself, in 2011 the Shorty Awards crowned Cory Booker for a second time for best in government. And, adding repetition upon repetition, NASA astronaut Douglas Wheelock won for best Real-Time Photo of the Year for his minimalist "Moon from Space" picture, which he shot from the International Space Station and shared via Twitpic and Twitter: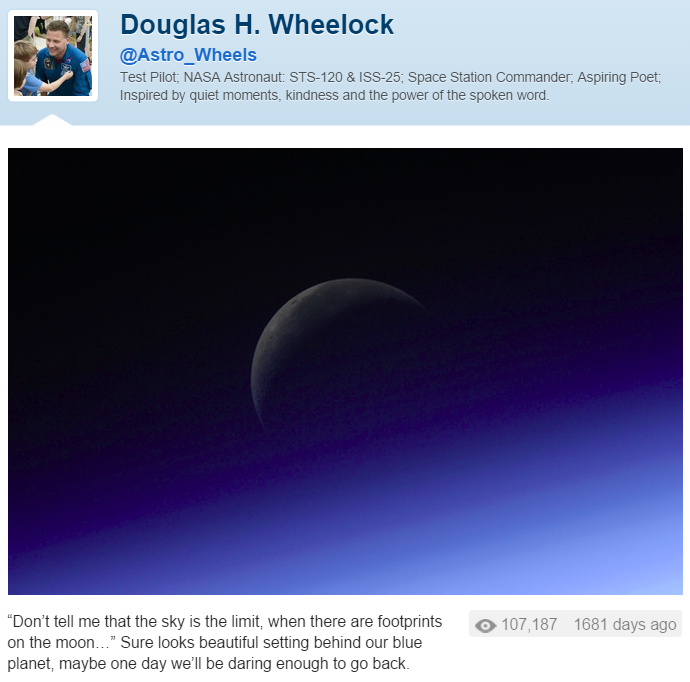 2012
In addition to winning the best in government Shorty Award again, in 2012 NASA (*sigh*) also won a second coveted social media prize. NASA's now defunct @MarsCuriosity account won Foursquare Mayor of the Year (remember back when Foursquare was a thing?). Yes, that's right, NASA's Mars Curiosity wandering rover pinged out on social media from the Gale Crater on Mars, making it the first check-in from another planet. Let's give NASA credit—this was pretty original.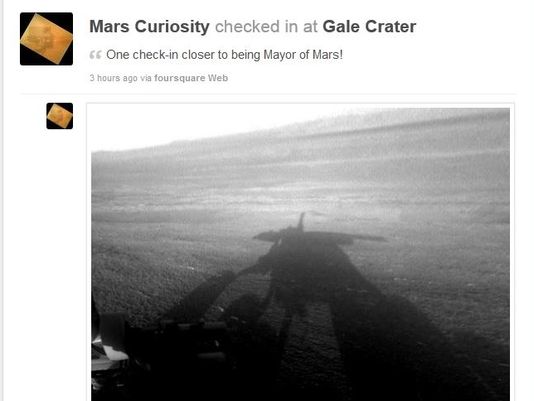 2013
Just to give us a break from all the NASA accolades, though this winner is outside the U.S., in 2013 the Chengdu Municipal Government and Chengdu Panda Base won for best use of Facebook advertising for its adorable PandaQuest: Be the Next Chengdu Pambassador campaign:
Okay, panda break over. Back to NASA.
NASA's official Twitter feed (@NASA) won the Shorty Award for best government use of social media again.  NASA fittingly celebrated with this acceptance tweet, typo and all:
We're sharing the universe 1 tweet at a time. Be inspired! Follow @NASA & RT is you love science & space. #ShortyAwards

— NASA (@NASA) April 9, 2013
2014
Last year, NASA boldly let one of its space flight centers take center stage at the Shorty Awards. NASA Goddard beat out a slate of tough competition, including finalists Cory Booker, Prime Minister of the United Kingdom, David Cameron, and the City of Las Vegas. Watch Aries Keck talk about what it meant for NASA Goddard to win the Shorty Award for best government social media:
Nominate Your Agency
Nothing against NASA, but doesn't it feel like it's time for a different government agency to stand at the winners' podium?
If you believe your government agency could be a contender for the Shorty Awards, entries are now being accepted (there's a fee to enter). Or, nominate your personal favorites with just a simple tweet using the voting form (free). The deadline for entries is February 19, 2015. Winners of the 7th annual Shorty Awards will be announced in April.
Do keep in mind that you'll have to beat NASA—the agency has already entered.
Lauren Girardin is a marketing and communications consultant, writer, and trainer. Find her on Twitter at @girardinl.