The 21st Century Integrated Digital Experience Act (IDEA) is an opportunity to reset and reinvigorate the focus on delivering for the people. American citizens are accustomed to the fast and easy digital experiences provided by companies like Amazon, Uber, and Netflix. The capability to use mobile apps for same-day delivery, personal transportation, and streaming movies instantly has permanently changed citizen expectations. Internally, federal and state government employees are expecting these same online experiences too.
The first step in creating integrated digital experiences for both government employees and citizens is to achieve a single, comprehensive view of the citizen. As citizens, we rely on numerous services from the various federal and state government agencies. Delivering these services in a cohesive way involves uniting a diverse base of people, processes, systems, and agencies. Done well, these projects have a direct impact on customer satisfaction and the quality of services that citizens receive, from paying your taxes to applying for land use permits.
Bridging the "information divide"
Bridging this "information divide" involves creating and maintaining one comprehensive view of each citizen, which allows all information systems and business processes to be integrated. This allows for sharing accurate, consistent, and secure data. The most important thing to remember is to drive the solution from the outside-in. That means looking at things from a citizen's perspective, not from a department or agency perspective. It also means thinking through what tasks citizens are trying to accomplish as well as the data an employee would need to help citizens complete their tasks.
For citizens — let's say a person in the midst of working on a land project —  it's answering questions such as:
Are they able to find the products or services they want?

Can they see the application they submitted for their land projects as well as see their tax information that was submitted to the IRS?

Does the product or service information have all of the data they are looking for?



This data might be accessed via a mobile app, the web, call center or government employees.

For government employees — let's say a land manager with the U.S. Fish and Wildlife Service (FWS) — can they see that the citizen's land project is in consultation with three different Departments of the Interior? Also, are they able to see that this person has an infraction on an illegal import that is being handled by the FWS Office of Law Enforcement and Security? In this scenario, the land manager is looking for data that helps drive an understanding and inform decisions regarding this citizen.
Do the citizens and employees have access to the same accurate set of information?
Putting all of the above information together creates a "single view of the customer." Single view projects are particularly valuable for agencies that provide many types of service programs, each with unique needs, eligibility requirements, and funding sources. Public agencies can take a phased approach to develop such a comprehensive view of their information sources. The first step would be to funnel the citizen or account level data to a business intelligence (BI) dashboard. Once the BI dashboard is in place then agencies can begin deeper systems integration work with eGov digital service application programming interfaces (APIs). When used together these software tools increase visibility into the services, transactions, and events associated with an individual person.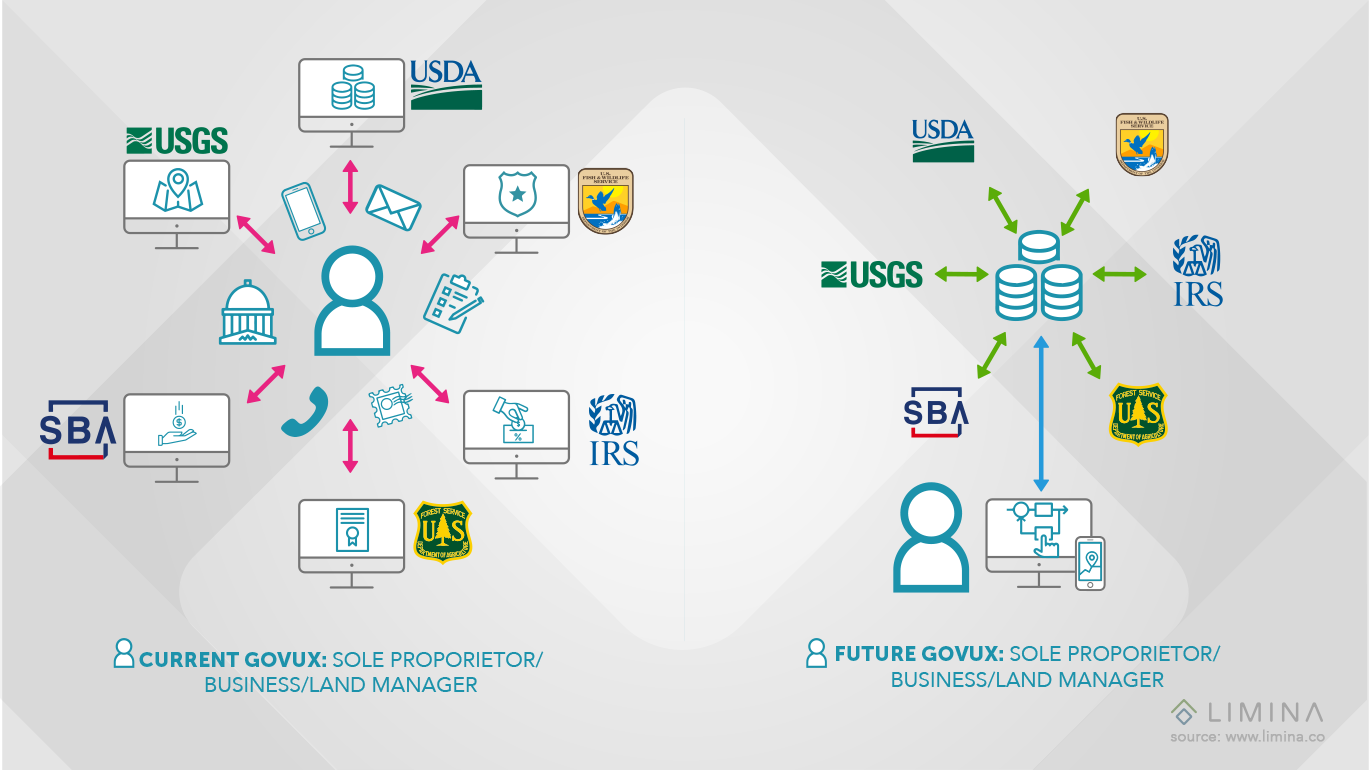 A true integrated digital experience built using today's technologies and agile business frameworks would provide government employees with a BI dashboard showing requests pending for review (among other things). This would alleviate the need to log in to multiple systems, send and receive emails, and process bureaucratic paperwork to learn about and gather missing documentation and secure handwritten signatures. Manual processes would be replaced with automated processes to enhance efficiency, effectiveness, and most importantly to empower the workforce. And, once the systems and workflows are integrated, the APIs can be opened providing self-service products and services for citizens to complete tasks when they have the time, not during "office hours."
Design to overcome the information divide
Here's where user experience (UX) design steps in to cohesively and consistently bridge the information divide by focusing on the human. UX design is targeting a specific citizen and a specific federal employee touch-point—when a citizen needs something from a government product or service or when an employee needs to use the system to help the citizen. A touch-point is not just a channel such as a website or a call center. It's a moment in time when the citizen interacts with your product, system, or service and your deliberate and thoughtful design for that interaction.
UX design looks at the full journey of a human in order to achieve an outcome via the product, system, or service. Citizens go through a series of interactions to accomplish a task and finish with their needs met (hopefully). UX is designing for all those micro-needs, no matter what the touch-point, and stitching it together to create a cohesive, consistent, and positive experience.
Know your citizens, know your internal constituents

Citizens and federal employees are two sides of the same coin. Companies spend huge amounts investigating their external users' experiences yet very few spend the same on understanding the experiences of their employees. The experience you provide your internal constituents through the tools and processes directly affects the experience they can then provide for the American public. Subpar tools equal phone calls with citizens that go like this—"Oh, sorry, I can't help you with that. It's another part of the system. I'll transfer you to a person who can help you, please hold." This, of course, frustrates citizens.
The key to overcoming the information divide is to provide a common rallying point for all departments: human beings using your products, your systems, and the staff who support them.