It's a challenge local government leaders now appreciate maybe more than ever: how best to reach millions of residents quickly during a public health crisis.
This was the case for Arizona's Maricopa County when planning its COVID vaccine rollout. What ensued — connecting with 1.8 million people and achieving vaccination goals in just over three months — now stands as a model for future efforts.
In a state where nearly 20%of the population is over the age 65, many with restricted mobility, the urgency for Maricopa County's Department of Public Health was around locating and prioritizing those most vulnerable. Officials used smart maps to quickly assess who was in need and where they were, then deliver information to those individuals about where and when they could receive vaccinations. 
The success of this geographic approach earned Maricopa County recognition from the 2021 National Association of Counties Achievement Award. More importantly, its solution empowered the county's mission to serve the public and provided staff with a technological foundation for future projects.
Building Transparency and Distributing Resources Equally
As the COVID-19 pandemic was still sweeping the country and vaccines were ready to be distributed, Maricopa leaders focused on helping their county's 4.5 million residents. But with a land area larger than the state of New Jersey, Maricopa County officials had to pay special attention to accessibility and proximity. 
First, county officials needed to keep track of who had already received the vaccine and who was still in need. To ensure equity and transparency, they also had to understand demographics related to vaccine distribution. Department of Public Health leaders asked experts at the Office of Enterprise Technology (OET) to create a meaningful mapping system that could identify vaccination rates based on age, sex and race. OET also built an application that could provide residents with accurate information about the nearest vaccination sites and appointment services. 
Public health staff coordinated with people from the State of Arizona Department of Health Services (DHS) to access data from the Arizona State Immunization Information System. The OET team dissected the state's database to create one of its own for Maricopa County. 
Since staff at the OET already had access to GIS software, they were able to move forward with coding the maps and creating the applications for the most up-to-date vaccination site info. The final product, the Public Vaccine Data website, generated various charts, graphs and maps that showcased metrics for the percentage of population vaccinated in Maricopa County. Users on this site, which was updated weekly, could search by ZIP code to see how many people were vaccinated in that area.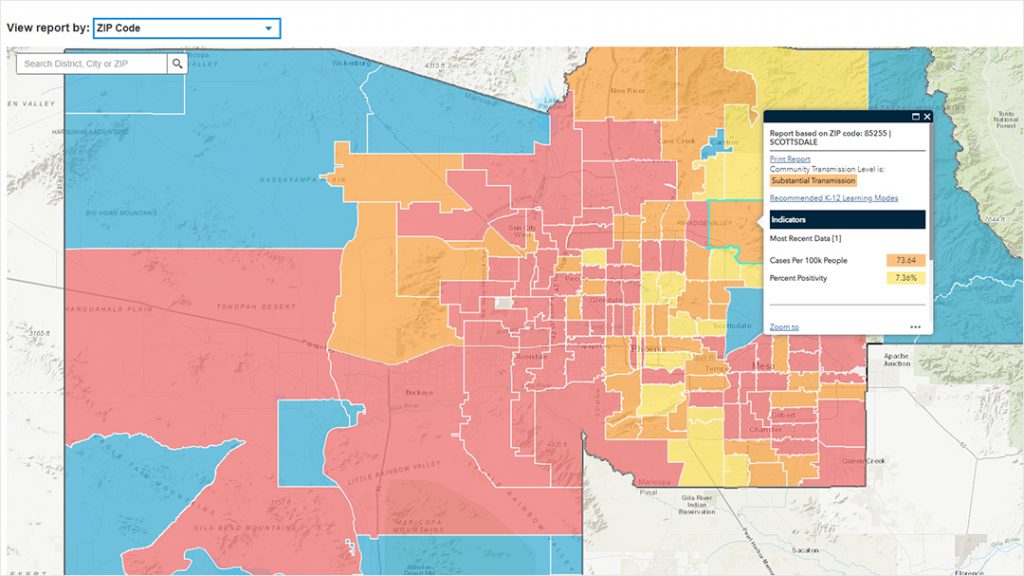 The OET team also incorporated the COVID-19 Vaccine Tracker and Locator app which assisted residents with finding resources such as clinic locations, and which required appointments or allowed walk-ins. For those who lacked proper mobility to get to these sites, mobile teams were formed to reach them at their places of residence.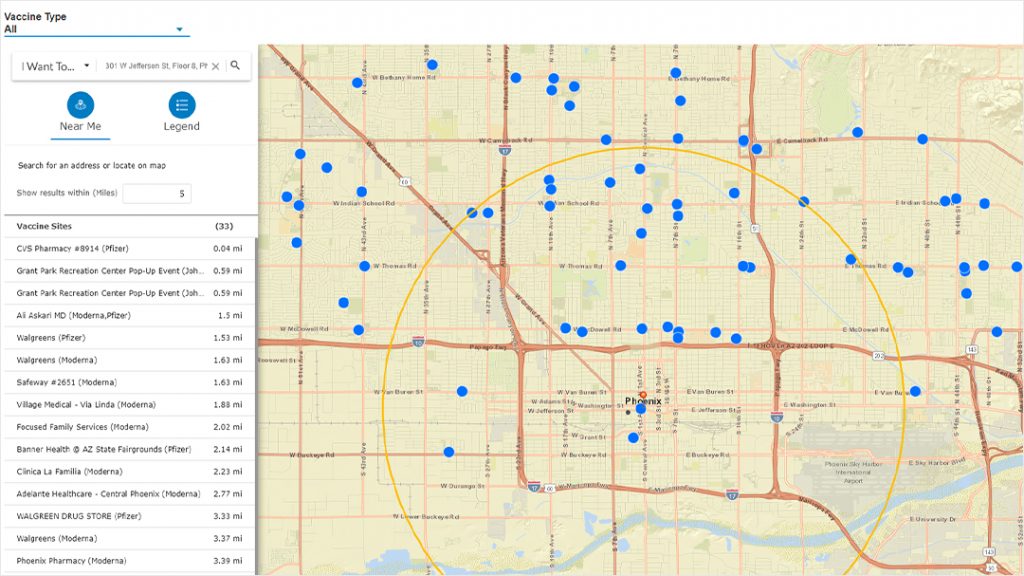 Like other municipal governments around the world, Maricopa is moving beyond pandemic response, with valuable lessons learned. Their geographic approach — using data-rich maps and public-facing web apps to understand the situation and communicate with the public — can be replicated in response to future crises, for public health and otherwise. 
Christopher Thomas is the director of government markets at Esri and a founding team member of the Industry Marketing Department. Prior to joining Esri in 1997, he was the first GIS coordinator for the city of Ontario, California. Thomas frequently writes articles on the use of GIS by government. Follow him on Twitter @GIS_Advocate.
To learn more about how organizations are using GIS for health response, visit esri.com/en-us/industries/health/focus-areas/health-preparedness.
Interested in becoming a Featured Contributor? Email topics you're interested in covering for GovLoop to [email protected].
Photo credit: Maricopa County Government