Posts Tagged:

health inequity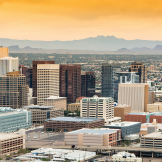 Maricopa County needed to identify the most vulnerable areas in the county and promote optimal vaccination sites to the public.
Racism is taking a toll on the physical and emotional health of people of color. Now is the time for governments to set policies and contribute to the solution of improving health outcomes for all people.
The COVID-19 pandemic opened Pandora's Box on the deepest health issues that were already ingrained in our communities today.