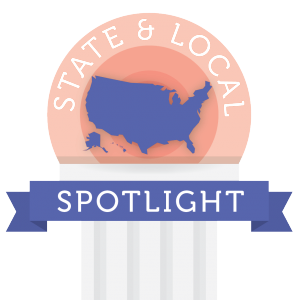 Oftentimes customer service is an afterthought for overworked, under-budgeted and underappreciated states. And citizens are obligated to use government services, so why does the experience matter? Why waste the money?
It matters, says Illinois Chief Information Officer Hardik Bhatt because, "governments don't go out of business, but businesses go out of government."
In 2013, Illinois ranked as the number one state to lose business and citizens. "We are losing businesses and citizens to Wisconsin, Indiana, and Michigan because those states offer much better service to the businesses and citizens," explained Bhatt. And those losses equate to tax dollar revenue the state can no longer collect. We have an imperative to change. If we improve customer service, we can start attracting them back or keeping those that are already there. We have to be competitive."
The good news for Illinois is there is a roadmap to improved customer service. "We are taking pretty similar principals of smart cities and the Internet of Things (IoT) and applying them to improving the overall service delivery for citizens," said Bhatt. And he knows a few things about IoT; Bhatt led Chicago's Smart Communities program back in 2006-2010 and spent five years leading IoT projects for Cisco.
Now seven months into his tenure as CIO, Bhatt is ready to bring his private and city experience to the state level. His first priority is to structurally reform the state's workforce and programs. Illinois has 86 different agencies, authorities, boards and commissions under the executive branch. Each of them has either a CIO or an IT director.
"If governments are not run appropriately, they tend to become very siloed," explained Bhatt. "As a customer, if you are looking to do multiples government services you have to go through multiple doors. It's up to you as a citizen to figure out which department is going to give you a particular service."
Instead, Bhatt wants to refocus the state from an outside in perspective – the customer perspective. "Instead of focusing on one specific service, we have started focusing on the population. For example, what services would pregnant woman need versus a construction company? We have started thinking about the population – and streamlined those processes for them," said Bhatt.
Bhatt's second priority is to optimize social media to enhance the customer experience. "So far, the government has used social media to tell people what we're doing. The private sector has actually started listening to what their customers are telling them. We are looking at building solutions that can help us listen to what our customers are saying about us, and that way we can serve them even better than what we are now."
The transformation and realignment could be good for both the government and the citizen. "It's good for the citizen because they come to one place and get everything that they need. It's good for government, because we need revenue. So if you' are looking for a fishing license online, and we can give you a boat license on the same page, then we are getting a little bit extra revenue and customer is getting one stop service."
However, realignment requires a fundamental change in culture. It requires government servants to remember that they are there to service the public first. "We are not here to do our 9-5 jobs and go home. The majority of the people who are in the government service are there because of the mission. So focusing on that has helped a bit with the transition," said Bhatt.
In order to facilitate realignment, Bhatt and his team are taking an agile approach. "Government has historically been involved in multi-year, million dollar projects. We kept developing stuff and then two years later, realizing that what we created wasn't helping the customers. What we have done is break down every project into 75-day milestones."
The state will measure progress in 75-day increments over the next four years. "We have roughly 20 such 75-day increments to transform the public sector within one 4-year term," said Bhatt. "This approach also allows us to take some risk."
And smart and fast risk is what the Governor is looking for. Governor Bruce Rauner told CIOs, "I'm okay if you guys are ready to take some risk, because you have to in order for you to transform and make major changes, you have to think outside the box and take some risks."
Bhatt has implemented the "roughly right" principle. "We don't wait for 100% certainty. Perfection is the enemy of good. We ask what can be deliver in 75 days? We deliver that. Then we go to the customer and improve on that and deliver the second iteration."
One of the biggest stumbling blocks to the new and improved Illinois IT transformation project has been the workforce. "70% of our investment is in mainframe and close to 50% of our mainframe workforce has either retired in the last five years or is going to retire in the next few years," said Bhatt. "I can sit and complain and worry about the workforce, or I can fix it."
In order to address the workforce challenge, the state is looking to launch Talent Management initiative – a development, training and recruitment initiative. "The goal is to make sure we have the best and brightest here, and we will do that by rolling out a robust training curriculum in partnership between the private sector and our university/community college system."
Finding the best and the brightest is key for Bhatt because he wants to see a new outlook for his home state. "I've been a taxpayer for state of Illinois for 18 years. Right now we have a Governor that can really transform the state. We have some major problems in the state of Illinois. We are in the 4th month of this financial year and we still don't have a budget.
For me, government service is a mission. It's my job to make sure we are there to support the governor, to transform the state that I've been paying taxes to, living in and growing my family in, for the last 18 years."