Customer experience (CX) is becoming more of a focal point in government. Agencies have led efforts to modernize citizen-facing websites and digital services and increase efficiency across the board in terms of IT and digital development, with an emphasis on design that puts people first. They share a vision of a government that delivers an above-standard, integrated, digital experience for its constituents.
So what exactly does prioritizing CX mean for government? And how exactly does the 21st Century Integrated Digital Experiences Act (IDEA) factor into the bigger picture?
Jennifer Plozai, Head of External Affairs at the National Science Foundation, Jonathan Benett, Technical Director for Digital Government Solutions at Adobe, and Kelly Olson, Head of Industry Strategy & Marketing at Adobe addressed the topic of modern CX at GovLoop's Government CX Virtual Summit: Putting the Citizen First. The session was titled "Reimagine Government: Integrated Digital Experiences That Put People First" and was moderated by Emily Jarvis, Senior Online and Events Editor at GovLoop.
"We're both consumers and practitioners of government," Olson began. "Most Americans don't think about the federal government every day, but when they do need the government, they expect services to be easily accessible."
She elaborated by highlighting the natural tension between the mission goals of government and the services that citizens expect. Traditionally, when the government tries to make things better for citizens, it usually starts with policy. Then the bureaucracy translates intent into practical action. However, the public sees it in the opposite way. The citizen first experiences the service, through which they can glean the process, and then maybe discern the policy.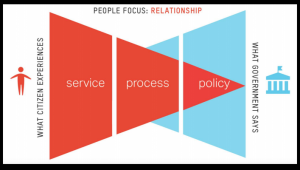 Digitization involves people working together across the IT department to make services better for citizens. Seeing the experience through the eyes of the user helps agencies understand, prioritize, and prioritize the user.
Some experience goals should include:
Improved functionality, use, and experience across websites and mobile devices.
Integrated data management, analytics, and customer insights.
Eliminating paper-based forms and workflows.
The core drivers for embracing digital services remain the same across agencies- to meet expectations created by CX provided by the private sector, to eliminate antiquated paper-based processes to heighten efficiency, and to move away from costly legacy technology, which consumes about 75 percent of agency IT budgets on average, according to Olson.
When government employees feel empowered to deliver timely and efficient services to citizens, everyone benefits. And as the number of positive citizen experiences with government increases, so does public trust.
Olson highlighted four key facets of the legislative and executive policy momentum that we've seen in recent years:
The Connected Government Act
Modernizing Government Technology Act
Cross-agency Priority Goal: Improve CX
21st Century IDEA
On the 21st Century IDEA, in particular, Olson said that this was the first time she has seen the integration of CX and technology brought to legislation. Here's a timeline of key deadlines within the legislation: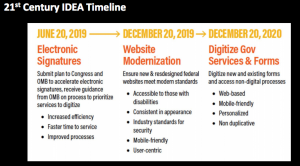 Technology has to target the demographic that uses it, Plozai stated, so it's important to pinpoint where exactly your customers are.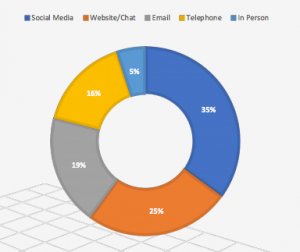 The benefits to your organization include being at the pulse of your customer needs and identify trends and make operational improvements. You can also address problems quickly and change public perception/opinions with direct interaction.
A case study that Plozai brought up is the social care strategy for TSA that launched on Twitter in September 2015. AskTSA expanded to Facebook Messenger in July 2016, and they respond to more than 1,000 inquiries per day with an average response time of fewer than 25 minutes.
The elements that had to be in place to launch this successful program included having clearly defined philosophies and goals, having the technology, team, training, and process in place, and integrating different platforms into the overall strategy.
"Help your agency and leadership find the right digital voice," Plozai stated. "We really found our voice in humor in AskTSA."
TSA negative customer sentiment, as received via social media, went from 16.4 percent in 2015 to 1.5 percent in 2018. Quick response rates and the new ways that TSA tries to engage with its customers contribute to this close to a 15-point decrease in negativity.
Benett stated that Adobe offers various solutions to optimize digitization at agencies, including fast, secure, and legal electronic signatures services. He walked through a few examples of customers that benefitted from using Adobe's services, including the National Center for Missing and Exploited Children. The organization's website was made modern, mobile-friendly, and engaging with Adobe Experience Cloud. The change contributed to a 97 percent recovery rate of all missing children and improved engagement on the site.
He posed the following questions:
Do you have an idea for an initiative that can improve CX?
What would be the overall financial impact of that process?
How would it benefit the customer to provide more efficient services?
How will it benefit your agency?
Let us know what you think in the comments below.
Want more content like this? Stay ahead of the game and pre-register for more free government virtual summits!