Posts Tagged:

Servant Leader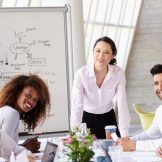 Practicing and emulating these leadership behaviors improves upon your own leadership skills.
"Hidden Figures" not only offers a great history lesson about breaking down race and gender barriers; it may also be the best film about leadership you will see this year.
Don't get sidetracked by leadership myths. Find your voice, listen to it, trust it.