The public-sector workforce is in the midst of what Kiran Ahuja, Director of the U.S. Office of Personnel Management (OPM), calls a "work revolution."
A keynote speaker at GovLoop's NextGen summit on Wednesday, Ahuja said the pandemic changed the workforce in unexpected but often welcome ways, particularly by emphasizing the human in the term human capital — "the critical investment in the form of people."
"Government policies are brought to life by people, people who deserve to be honored and respected, supported, elevated for their contributions, and compensated with the income and benefits they earn through their hard work," she said. "If we want to ensure that government is prepared to succeed in the future of work, then we need to have the right people in the right roles right now."
One way that the federal government is prioritizing the workforce is through the Biden-Harris Management Agenda (PMA) Vision. The first goal is empowering and equipping employees to effectively deliver for the public. Part of that is offering competitive pay. To that end, OPM this year raised the minimum wage for federal civilian workers to $15 an hour, which immediately raised the pay for 67,000 people. What's more, President Biden plans to give federal civilian employees a 4.6% pay raise in fiscal 2023.
Another tack is the prioritization of early-career employees. "The next generation of workers is ready to make an impact, and we need their fresh perspectives and new skills," Ahuja said, but they may not necessarily be ready for public-sector jobs. She cited a study in which less than half of recent graduates said they would consider federal employment.
"I can't tell you how much it pains me to hear those stats, but what it does is empower me to say what more can we do and what do we need to do to get the word out about the benefits of starting a career in the public service," she said.
Here are five ways Ahuja is taking action:
Increasing the number of paid internships and increasing the number of interns hired into full-time positions
Releasing hiring authorities to facilitate the hiring of recent grads with a starting salary of $72,000 a year
Updating the regulations of the Pathways Programs, which offers paid internships and fellowships
Breaking down barriers of "traditional qualifications" for public service by allowing the hiring of candidates who don't have bachelor's degrees but got needed experience in other ways
Partnering with community colleges, trade schools, minority-serving institutions, historically Black colleges and universities, Hispanic-serving schools, and schools with large tribal student populations.
What's more, once those employees are hired, Ahuja wants to make sure they stay. She's doing that by:
Promoting a flexible and agile workforce. That means greater telework, remote work and flexible work schedules. For example, USAJobs.com now has a remote function that lets job-seekers look only for positions that are remote.
Making diversity, equity, inclusion and accessibility central to workforce decisions
Considering the impact the federal workforce has on communities by considering what the impact of changes would be on local economies
"We need to build for the longer-term future, but we also need to ensure that we have a workforce that is skilled, diverse and engaged," Ahuja said.
The largest employer in the country with more than 2 million civilian workers, the federal government is in the position to make a significant impact on the outcomes of what she calls this "phase of experimentation" as the workforce adapts to a post-pandemic environment.
"Together, we're building a talent pipeline for the future," she said.
---
* Click here for more information about virtual summit sessions and speakers — including access to recorded presentations with other government and industry experts. *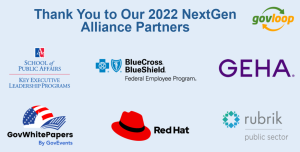 Photo by Canva Studio on pexels.com