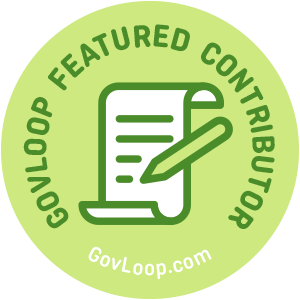 Writing this blog has been a great experience and I am grateful for the opportunity to contribute to the dialogue. It's only fitting that my last post as a GovLoop guest contributor will be my shortest and also the one I am most passionate about because it brings together the ideas of leadership, innovation, and the future into a rallying cry for action. 
Over the course of the past few months, we've covered a gamut of topics including:
Where does this range of technological and strategic ideas leave us? 
It leaves us with the future. We must build it. 
To build, we must act. We must break out of continuous cycles of meetings, planning sessions, and PowerPoint presentations. We have to get uncomfortable with new technologies, partners who challenge us, admitting our lack of knowledge about vital topics, and risk. It's in this lack of comfort that we'll stretch outside our current horizons — into the future.
So I suppose my parting post is a call to action. Transform your agency to be what it has the potential to be, provide the support we would want to receive, build the teams we want to be a part of. 
We've all heard some variant of 'we've always done it like this.' Strike that and all related terms from your vocabulary. Turn your focus to outcomes. Ask what we are trying to accomplish and consider the best way to get it done. I leave you with a few suggestions of how to turn your focus to building the future.
Encourage Challenges 

Good ideas are like diamonds. They require friction to show their true beauty and potential. Seek out this friction for all of your ideas and solicit real feedback. It will only add value. 

Bring In New Ideas 

The same people going through the same process over and over again will likely start to yield the same ideas. Bring in new people, fresh perspectives, and new data to brainstorming efforts to unlock the potential of your team. Stimulate new ideas. 

Remove Barriers 

As a leader, you should focus on removing barriers to growth and innovation for your team. Allocate resources for them to be successful and get anything in the way out of it. Do that and you're a success. 

Adapt 

Change is hard. It is messy. There will be bumps in the road. But it is the only way to move forward. We must seek to adapt and to change models and processes to keep pace with a changing world. 
Talk is cheap. Slides are cheaper. Too much comfort is lazy. The future keeps coming. If we want to be successful, we have to build it. It's time to take control. Admit what you don't know then set out to find or create the answers you need.
Tyler Sweatt is a GovLoop Featured Contributor. He is the founder and Managing Partner at Future Tense. Tyler works to identify and address risks and opportunities in changing environments. He advises startups across the cybersecurity, artificial intelligence, and physical security domains, and regularly supports R&D, S&T, M&A and strategy initiatives across DHS, DoD, the IC and Fortune 500 organizations. Previously, Tyler worked at futurist consulting firm Toffler Associates, leading emerging technology and security efforts, and worked at Deloitte where he focused on rapid technology acquisition for DoD. A West Point graduate, Tyler served as a Combat Engineer and Counterintelligence Officer with the Army, serving multiple combat deployments. You can find him on Twitter @Tyler_Sweatt.